Recreation opportunities abound in and around Claremore! Family fun activities like fishing, swimming, camping, sailing and boating can be enjoyed on the shores of nearby Lake Oologah. Family outings, scenic strolls, picnic shelters, fishing, disc golf, heated dock, bike, mountain bike, and walking trails are available on beautiful Claremore Lake.
The Claremore Park System is recognized as one of the finest in Oklahoma. Parks are accessible in every area of the city including sports complexes, tennis courts, soccer and ball fields, playground equipment and walking trails.
The City of Claremore Park Department's current biking and walking trail connects Claremore Community Center and Claremore Lake Park around the soccer complex and through a scenic wooded area. Claremore mountain bike trail is a 10+ mile single-track trail located on the east banks of Claremore Lake.
(918) 342-2522 I www.claremorecity.com

Claremore Mountain Bike Trail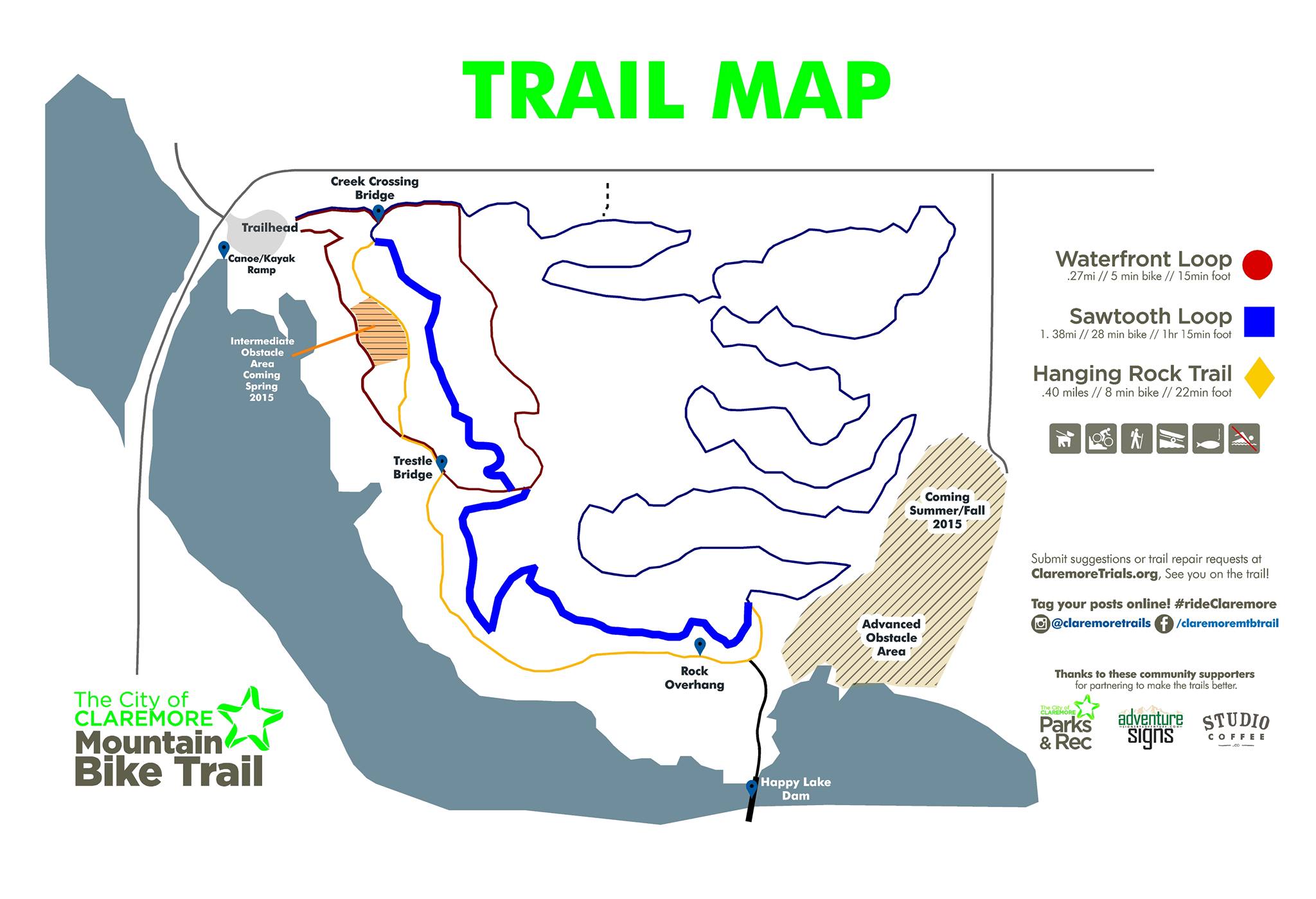 Claremore Recreation Center
This facility features an Olympic-size indoor swimming pool with zero entry, basketball, tennis and racquetball courts, weight/exercise room, indoor and outdoor jogging tracks, multi-purpose aerobics room and child care facilities. Membership and daily passes are available. Family and corporate rates are also available.
595 Veterans Parkway I (918) 341-4516
Claremore Community Center
The City's Community Center is located on north Sioux Street and features many activities for adults as well as youth. Meeting, conference and banquet rooms are also available.
2301 N. Sioux Ave. I (918) 341-7289
Rogers State University Conservation Education Reserve
Rogers State University Conservation and Education Reserve is located on the Claremore campus of Rogers State University. The reserve is a 120 acre outdoor classroom for students and adults of all ages to use as a living textbook to learn the value of conserving our natural resources. The Reserve includes butterfly and herb gardens, fishing pond, wetland boardwalk, wildlife viewing area, hardwood trail, tall grass prairie trail, greenhouse, ropes course and
more.
1701 W. Will Rogers Blvd.